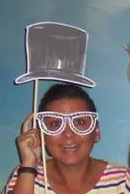 Caroline, in fact spent a good deal of her education studying Spacecraft Dynamics, Aerospace Structures and Orbital Space Flight on her voyage to a earning her degree in mechanical and aerospace engineering.
Since that time Caroline (don't call me "Carol") spent a number of years working for L&H Aerco, a well known mechanical equipment representative in Northern California. More recently Caroline designed solar electric systems for DC Solar in Sacramento.
We feel very lucky that we were able to convince her to share her talents with us at 15000 Inc. Caroline has a wicked sense of humor that fits right in with the rest of the wackos in the office!
Social Share